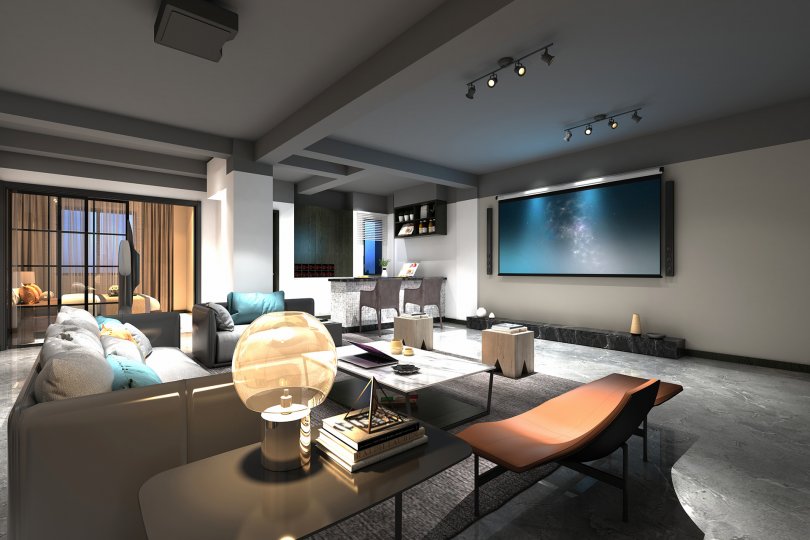 How to choose a projection screen?
If you're interested in how to enjoy your video content in the best possible quality, you probably already know that a projector is unbeatable when it comes to a really good cinematic experience.
Share
•
2021. 03. 05.
It often happens that once we have invested in a projector, we completely ignore the importance of the right projection screen. Projection on to a wall or simply a white surface can have a rather negative effect on image quality. When using a surface, contrast, resolution and true-to-life images are especially important.
If you have the space, it is always better to choose a fixed screen. A fixed canvas is usually made of PVC and has an aluminum or wooden frame that holds the screen very tightly. This option is easier to integrate and it provides a smooth and even projection surface at the best value for money.
However, the disadvantage of fixed frame screens is their size. The most cost-effective solution for achieving large image size is still using a projector and screen. For this, a high quality projection screen is essential. The main points to consider are the quality of the material, a reliable motor and the mechanics, but most important of all is the projection surface which has to be chosen carefully if we want to achieve the best image quality.
It often happens that we want to project a large image but realize that we do not have the conditions necessary. Light from outside, bright walls - and light reflections degrade the contrast The solution lies in ALR (Ambient Light Rejecting) which is a diffuse reflector surface selectively reflecting light back to the audience. With this device it is possible to project a contrast image in even a room with bright-white walls.
Screenline offers a choice of two such surfaces. The negative effects related to the positioned surface are minimal, there is no Hotspot and glare, but we have to reckon with light loss, so in the case of large surfaces it is important to choose machines with higher brightness.
If the right circumstances for projection are given, i.e. where the room can be completely darkened and the walls are dark in color, a traditional white canvas can also be used.
In addition to the home theater experience, screen use is most common in conference rooms, meeting rooms, classrooms, lecture halls, theaters, or movie theaters. As there is a wide range of settings and applications, there is also a wide range of projection screens.
In conference rooms there is the option for a motorized canvas that is mounted on a wall or ceiling and descends on command (or even automatically when the projector is turned on). Alternatively, there are in-ceiling screens that are installed completely over a recessed ceiling.
Choosing a projector is a more complex task, as you need to consider the characteristics of the room, what you want to use it for, what the size of the room is, and to take into account additional specifications, such as projection distance, brightness, aspect ratio, and resolution. To calculate the optimal visibility, we need to consider the field of view of the human eye, and to this end, we need to mount both the screen and the projector accordingly.
If you are unsure of your choice, contact our AV consultants and they will help answer your questions about any AV topic.